Navigating the Holidays When a Loved One Has Dementia
The holiday season will be here before we know it, and for most people, it's a time of happiness, celebration, and coming together with family and friends. However, when a loved one has dementia, it can also be a challenging, emotional time.
But a dementia diagnosis doesn't mean your loved one has to miss out on the festivities. Here are some practical strategies and tips to help you navigate the holiday season and ensure your loved one is included — without overwhelming them.
Adapt Traditions and Activities
Everyone has their favorite holiday traditions and activities, but when you have a loved one with Alzheimer's or dementia, sometimes it's better to be flexible to accommodate their needs. Some holiday traditions, smells, and music can trigger memories or feelings of nostalgia, but too much may overwhelm or confuse your loved one. The key is to keep it simple and familiar by:
Limiting Decorations:

Using fewer holiday decorations can make the environment less overwhelming for your loved one. Opt for soft, calming warm white lights, rather than flashing colors, and fewer knick-knacks and ornaments to minimize sensory overload.

Modifying Recipes:

If your loved one enjoys holiday cooking and baking, you can get them involved by modifying recipes to make them more accessible. Choose recipes with fewer steps and less complicated techniques, so they can help with the cooking as much as they're able. You may also want to have some blander, less rich options, as they may not be able to tolerate heavier foods with a lot of fat, sugar, and spices.

Adjusting Gift-Giving:

Instead of overwhelming your loved one with a pile of gifts, try giving them fewer, more meaningful presents. Focus on gifts that are useful and sensory-friendly, like cozy blankets or photo albums filled with family photos. If possible, you may want to take them shopping (in-store or online) and help them pick out gifts to give out so they can contribute to the festivities.
Provide Space for Rest and Relaxation
We've all felt the need to get away from the holiday hustle and bustle and have some peace and quiet, but downtime is especially important for someone with dementia. So be sure to keep an eye on your loved one and look out for signs that they need some space. Prepare beforehand by:
Creating a Safe Space:

Set up a designated quiet space your loved one can retreat to when they feel overwhelmed or overstimulated. Make it a comfortable area with soft lighting, soothing music, and any familiar objects that bring them comfort.

Being Mindful of Noise and Crowds:

Loud gatherings and large crowds can be distressing for someone with dementia, so try to keep gatherings smaller and quieter. If that's not possible, be sure to have them take regular breaks for some quiet alone time.

Making It a Team Effort:

Don't stress yourself out trying to keep your loved one from getting stressed. Enlist the help of trusted friends or family members who can be on the lookout and step in with assistance as well.
Communicate with Family and Friends
The holidays are all about coming together, so make sure everyone is on board and understands your loved one's limitations well beforehand. This will help you create a supportive, understanding environment during the holidays and make them much more enjoyable for everyone. Be sure to:
Set Realistic Expectations:

Make sure your family and friends understand that holiday traditions may need to be adapted, and encourage them to be flexible and patient. Let them know what your loved one can realistically handle and prepare them for any potential issues.

Delegate Responsibilities:

Form a team that can share in the caregiving responsibilities during holiday gatherings. This can help prevent burnout, ensure your loved one receives the support they need, and allow you to enjoy the holidays as well.

Give Tips for Communication:

Let your people know how they can interact with your loved one. Encourage them to speak slowly and clearly, share any topics that may spark conversation (and ones that should be avoided), and teach them the signs that your loved one is getting overwhelmed. Having this knowledge beforehand will make people more comfortable and prepared to spend time with your loved one.
Caring for a Loved One With Alzheimer's or Dementia
A dementia diagnosis doesn't mean your loved one has to be excluded from the holiday festivities. It may take some preparation and adjustments, but with a little flexibility and communication, you can ensure that the holiday season is filled with love, understanding, and joy for everyone.
But don't forget to give yourself some time to relax and enjoy the holidays too. If you need help caring for your loved one with Alzheimer's or dementia, Right Hand Senior Care offers affordable, compassionate in-home designed around your family's needs. For more information or to set up a care plan, contact us today.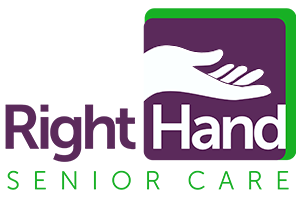 We are Superheroes in Comfortable Clothes™
We take care of our clients, their families, our staff, and our league of franchise owners.
330 Falconer Drive Suite F Covington LA, 70433